Speakers
Keynote Speaker

Prof. Rajender Singh Chhillar
Maharshi Dayanand University, Rohtak, India
Professor (Dr.) Rajender Singh Chhillar is a professor at the Department of Computer Science, Maharshi Dayanand University, Rohtak, Haryana. He has been teaching in the fields of computer science and engineering since 1987 and is one of the founder members of the Department. He obtained his master's degree from Kurukshetra University, Kurukshetra and Ph.D in computer science from Maharshi Dayanand University, Rohtak, Haryana. He received his master of business administration (MBA) degree from Sikkim Manipal University.
He has visited many countries including France, Hong Kong, China, U.K, Dubai and Nepal. He also won the best paper award in International Conference ICCEE- 2013 held in Paris, France during October 12-13, 2013 and also chaired a session in this conference. He has taught a wide variety of computer courses at University Teaching Departments including software engineering, data structures, data base management system, software testing and quality assurance, software quality management, programming languages, and software design. Professor Chhillar is a director of board, CMAI Asia Association, New Delhi and senior member of IACSIT, Singapore and a member of Computer Society of India. Professor Chhillar has been serving as an editorial board member, guest editor and a reviewer of multiple international journals, and serving as a program committee chair, keynote speaker and session chair of multiple international conferences. He also performs advisory work to Government agencies and academic bodies.
His research interests include software engineering, software testing, software metrics, web metrics, bio metrics, data warehouse and data mining, computer networking, and software design. He has published more than 100 journal and 65 conference papers over the last several years and has also written two books in the fields of software engineering and information technology.

Prof. Sim Kok Swee
The Multimedia University, Malaysia
Professor Sim has won several international awards from the Academic Science Malaysia (ASM) as Top Research Scientists Malaysia (TRSM); Korean innovation and special Awards in 2013, 2014, 2015; the 2005, 2006 and 2011 World Conference in Applied Computing (USA); and 2008 IEEE conference at UK. For national level achievements, he won the Gold Medal Award in the Invention, Innovative & Technology Exhibition (ITEX) 2008, 2009, 2010, 2013, 2014; Bio Malaysia Award 2009, 2010; Malaysia Technology Expo 2011, AIK2011, AIK2012; Apicta Gold medal award 2014, 2015. He also awarded as MMU best staff in year 2009, 2010 and 2015. In 2016, he was given awards for the TM Kristal Award and two International Championships of World Summit on the Information Society (WSIS) Prizes in the category ICT applications: E-science during the event held in conjunction with WSIS 2016, Geneva, Switzerland. These awards were in the areas of biomedical Engineering (breast cancer detection and brain for early infarct detection). In 2017, he again received another WSIS 2017 International Championship Award on the Automated Pneumatic Glove Sample Stamping Machine for Colorimetric Test. Over all, he has won more than 80 awards which can be found in his website. He is currently working closely with various local and overseas institutions and hospitals such as Department of Electrical and Computer Engineering from National University of Singapore, Centre for Intelligent Systems Research at Deakin University (Australia), Department of Mathematic at Chinese University Hong Kong, Hong Kong University Science and Technology (HKUST), City Hong Kong University (CityU), Perkeso Rehabilitation, Malacca General Hospital, Hospital, Pantai Ayer Keroh and Putra Specialist Hospital.

He has heavily involved in various engineering council namely Institute of Engineer Malaysia (IEM) as Melaka State committee member, secretary, vice chairman, Multimedia University student chapter advisor, Institution of Engineering and Technology (IET) MMU student chapter. He is also the senior member of IEEE, Fellow member of IEM. As professional Engineer, he also registered as Chartered Engineer from IET, Professional Engineer from IEM, International Professional Engineering from IEM and APEC, Asia Pacific Engineer (APEC) from both IEM and APEC, and also Asean Chartered Professional Engineer.

He also serves as fellowship for Malaysia Academic Science Malaysia, senior panel for Engineering Accreditation council and Malaysian Qualifications Agency (MQA) to visit universities to assess university programs. So far, Prof. Sim has filed eight patents and more than 70 copyrights. Prof Sim has brought in National and International funding respectively to support his researches.
Speech Title: Virtual Reality in Hospital for Rehabilitation
Abstract: This talk is about the development of virtual reality (VR) technology in hospital for post-stroke rehabilitation. Based on the statistical study, the common rehabilitation training modules are the pick and place, and balance impairment rehabilitation. These modules are developed to serve motor dysfunction and balance impairment. By using a VR headset, it enables an individual to immerse in the virtual environment. With the integration of VR, Leap motion sensor, and Kinect sensor, the individual is allowed to interact in the virtual world to carry out rehabilitation exercises in the virtual hospital environment. In this way, patients can carry out rehabilitation exercises at their convenience in the virtual world environment they desired.
Plenary Speaker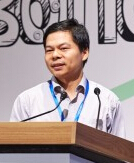 Assoc. Prof. Jing Xingjian
Department of Mechanical Engineering, The Hong Kong Polytechnic University, Hung Hom, Kowloon, Hong Kong
Dr X.J. Jing received his degree from Zhejiang University, China, in 1998, and was then with the Robotics Laboratory, Shenyang Institute of Automation, Chinese Academy of Sciences until 2005, where he undertook research into motion-planning and stability analysis of mobile robots and tele-robotic systems, and obtained MPhil and PhD in intelligent systems / robotics in 2001 and 2005, respectively. He started his PhD program studying nonlinear systems and signal processing at the University of Sheffield in Oct 2005, supported by the EPSRC-Hutchison Whampoa Dorothy Hodgkin Postgraduate Award. Before he joined in the Department of Mechanical Engineering, The Hong Kong Polytechnic University, as an assistant professor in Nov 2009, he was a research fellow with the Institute of Sound and Vibration Research, University of Southampton since Aug 2008, where he worked on modeling and signal processing of locust neuron systems funded by a BBSRC (UK) project. He was promoted to Associate Professor in 2015.
Dr. Jing currently serves as a Technical Editor of IEEE/ASME Transactions on Mechatronics, an Associate Editor of Mechanical Systems and Signal Processing, and editorial board members of several other open-access journals.